13 Aug 19
Demand for entry-level properties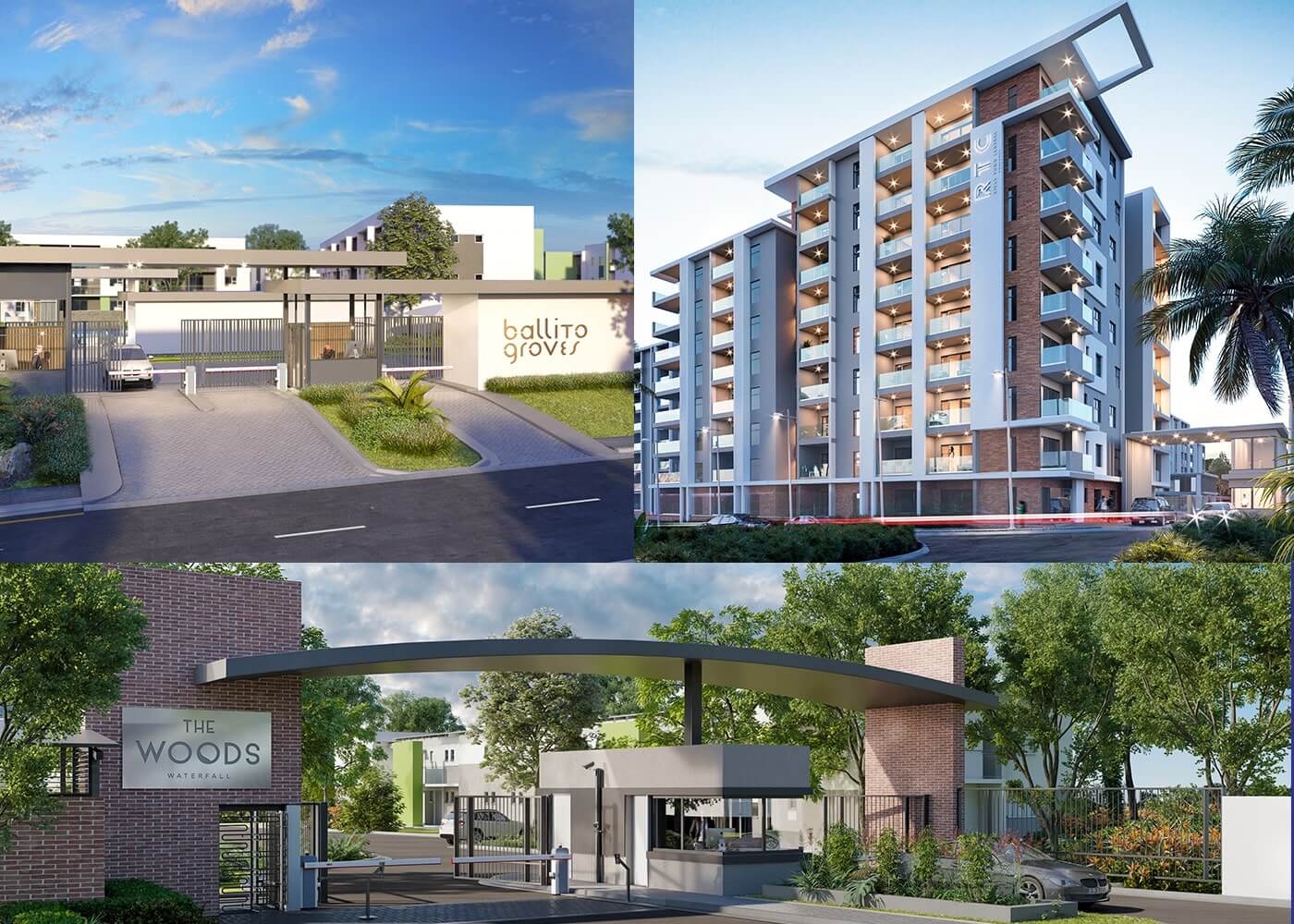 In the current climate, there is no doubt that entry-level off-plan property opportunities are outranking luxury estates throughout South Africa in terms of performance. If we zone in on KwaZulu-Natal alone, Rainmaker Marketing has partnered with a number of successful developments that have been priced specifically between R600 000 to R1,2 million. Coupled with being situated in sought-after locations and offering secure, modern lifestyles, these developments have shown just how much entry-level developments are in demand.
The Woods
Having launched publicly merely 6 weeks ago, The Woods has already achieved 80% of their sales for the first phase. The Woods is an ideal product designed with young families in mind with a range of 1, 2 and 3-bedroom apartments and townhouses starting from R649 000. Located in the popular and secure Waterfall neighbourhood, this product is centrally located merely 200m away from Waterfall Shopping Centre and top schools. It is no wonder it is performing exceptionally in a 'slow' property market.
Ridge Town Central
You could not be more centrally situated if you asked. Ridge Town Central is the epitome of modern, convenient living for up and coming professionals and young families. Situated in the popular, bustling neighbourhood of Umhlanga Ridge Town Centre, this development has already achieved 73% of sales for the first phase merely 3 months since launching; becoming the fastest selling development within the node. Offering 1, 2 and 3-bedroom apartments from R1,15 million, it has become the fastest selling development in the Umhlanga Ridge Town Centre node to date.
Ballito Groves
It just shows that when you marry the right price-point, in-demand location and fitting lifestyle, you will see instant sales. Ballito Groves is a prime example; in less than a month Ballito Groves sold out 210 units within its first phase. Offering 1 and 2-bedroom apartments within a secure estate starting from R680 000, saw Ballito Groves break the Ballito sales record as the fastest selling development in the area.
While the property market has experienced a slowdown, we can clearly see that entry-level homes situated in secure, family estates are in huge demand – despite the markets performance.